VM Elevators
VM Elevators are a lift & escalaor company based on the edge of London and Essex.
VIEW WEBSITE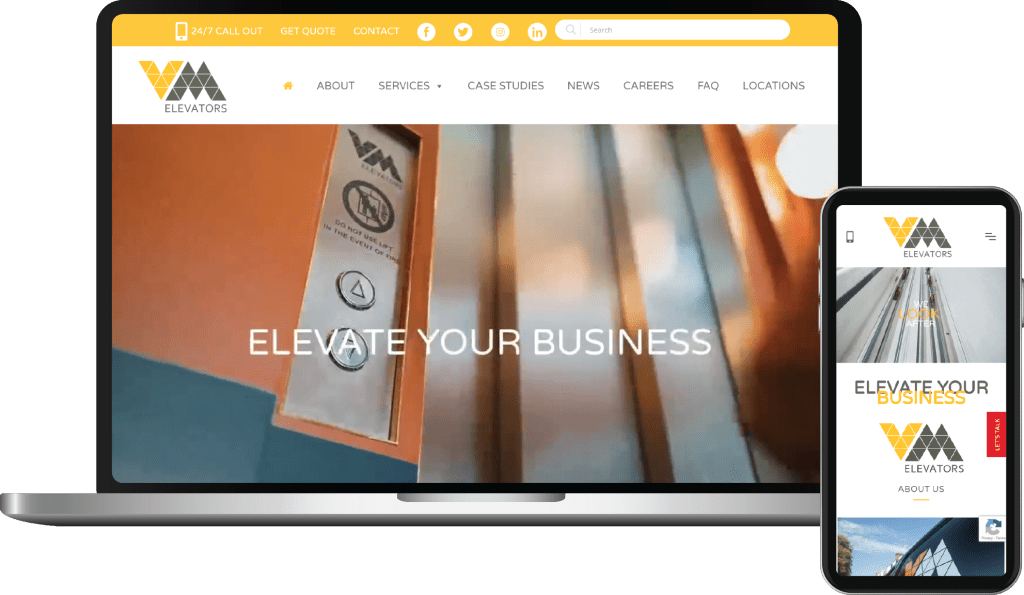 Colour Palette
#ffc430

#66665c

#ffffff

#e21f2c

#3f65aa
The Brief
Our partnership with the client began when they encountered an error on their WordPress website caused by a malfunctioning plugin. Upon evaluation, we discovered that their previous site did not align with their newly designed and impressive logo. Additionally, their online presence was virtually non-existent, with minimal visibility on search engines. Our primary objective was to address the functionality issues, ensure brand consistency, and establish a strong online presence for them.
The Deliverables
WEBSITE
WEBSITE

Collaborating closely with their in-house marketing team, we embarked on a comprehensive rebuild of their website. Centered around their brand and colors, we crafted a captivating design that embraced their tagline: "We Are VM Elevators." Extensive research on their industry and competitors allowed us to curate a targeted list of phrases to optimize and rank for.

SEO
SEO

We researched their business and competitors thoroughly and put together a comprehensive list of phrases we recommended to target.

The Results
The end result is a responsive, visually striking website that perfectly captures their brand identity. Through our dedicated efforts, they have achieved nationwide rankings for over 100 keyphrases, significantly increasing their online visibility and attracting a broader audience.
We are thrilled to have successfully transformed their website into a powerful tool that truly showcases their business and generates substantial online traction.
All fields are required aside from the resources section.